Sound Healing Workshop with Sound Mysterium
Two sound full days to learn, explore, and to experience sound healing. You will be working mainly with gongs and Himalayan singing bowls; but also voice and some other instruments to expand your creativity.
The course is suitable for all, absolute novices to the sound world and to those who already have some experience in sound healing but wishing to enrich their practice. This is perfect for those doing shamanic work or to all who are facilitate rituals, spiritual practices and mysterious experiences.
Kat Bumbul of Sound Mysterium, has over 10 years experience in sound healing and will share her knowledge, skills and approach to the instruments and the subject of healing. We will focus on:
1) Playing techniques and practicalities
2) Specifics of old ritual instruments and approaching old authentic traditions
3) Contemporary and improvised approach to sound healing such as singing bowls sound massage
4) Personal development and work for the environment & community
The workshop is limited to 10 participants only. You will be encouraged to do your own research and to learn from other healers and musicians, and of course to experiment and practice a lot afterwards. This is a cool alternative to expensive sound healing courses and an opportunity to learn directly from Kat.
EVENT DETAILS
Times: 10am to 5pm, Sat & Sun the 26th and 27th Oct
There will be a one hour lunch break around 1pm (please bring food to share).
Prices: £160 / £140 concession
ABOUT YOUR FACILITATOR

Kat began her musical journey with a classical music education, but it was in spring 2008 during her first psychedelic experience when she received a strong calling to work with sound in a shamanic way. She went to several sound healing workshops to learn the basics, but her approach deepened simply from long practice, experiments and intuitive guidance. A big step forward in her sound healer's journey was meeting the famous Frank Perry, and later finding two great masters and receiving initiation by them into two old authentic traditions; Kashmiri Shaiva Tantra and Siberian shamanism.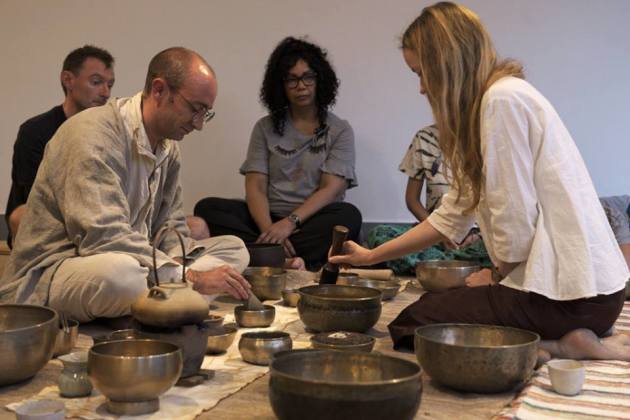 You probably know Kat from her popular Psychedelic Gong Baths at The Round Chapel and maybe from her other sound healing sessions in other locations. Kat's another big passions are tea ceremonies inspired by Tao and Zen, walking labyrinths, and shamanic rituals & healing. Every Summer Kat is quite a lot away - in the woods and her wild garden in Lithuania, enjoying being and practising in nature while building a small secluded retreat there. Kat invites you to establish your own personal approach to sound work and then to enjoy this ongoing adventure at your home with your family, partners, pets and friends, neighbours, at work with your colleagues, clients, in your projects and collaborations, in the moors, in the woods, and somewhere by the water...

Did you know that members of the Psychedelic Society get 10% off all our events? Join from £5 a month and become part of this amazing community! https://psychedelicsociety.org.uk/become-a-member
Please Note:
Doors open at 10:00 and close at 10:15. To ensure the quality of the event, late comers will not be admitted
We do not offer refunds or exchanges, but you can resell your tickets to friends, or on Ticket Swap
Our UK events are intended for a sober audience. We kindly ask that you respect this request.
Events at our Homerton space are up two flight of stairs, so we are sorry to say we do not yet have wheelchair access.
For enquires please email kat@psychedelicsociety.org.uk